ESC -
Slovenia - Triglav
, 2864m - Info | Trip Report | VR Tour
Say Ni! :


Those who have seen the film, "Monty Python and the Holy Grail" may recall King Arthur's encounter with the fearsome, antler helmed, Knights that say Ni. Passage through their woodland domain came at a peculiar price, their demand, a shrubbery. As I squeezed past the dwarf pines that overgrew the path, stepping on one branch, leaning on another. and pushing forwards a third, I could not help but think that these men would have enjoyed it here in the Triglav National Park. Shrubbery grew everywhere on this section of my trek, including the path, making my pace slow and particularly unpleasant. Let me tell you from experience, that dwarf pines can be evil arse slapping, finger cutting sods.

The fact that the path was so overgrown did give me cause for concern. The map, and the red and white paint markings, indicated that I was walking on Slovenia's Alpine Traverse, one of the country's few long distance paths. Some small distance ahead of me was a hut, Kuca pod Bogatinom, where I planned to stay the night. Would the hut be open when I got there? It was nearing dark and having completed a strenuous day, I was in not mood for this amount of drama, and for your benefit I'll cut to the chase. Not only was the hut open but dinner was being served.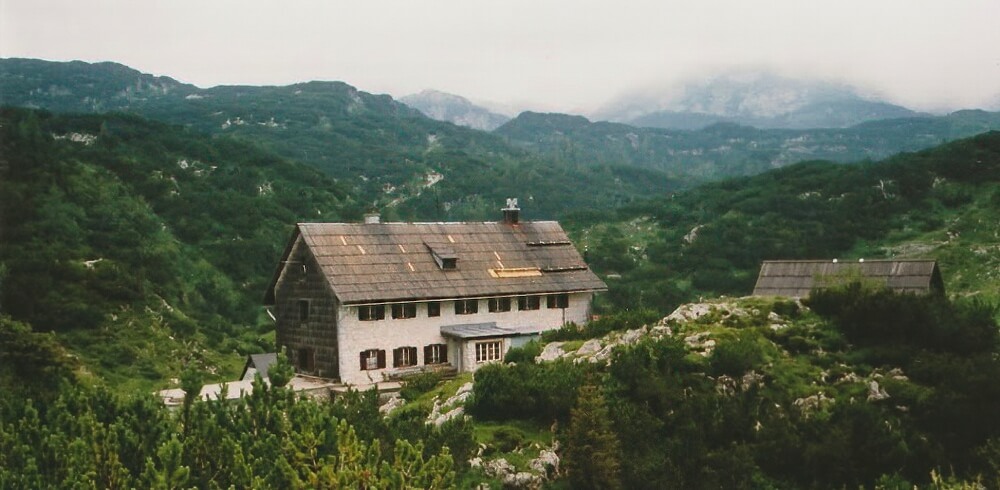 Kuca pod Bogatinom.


Kuca pod Bogatinom was very different from Dom Planika where I had stayed the night previous. There, reception duty was maintained by two attractive young girls fluent in English and probably many other languages since the mountaineering clientele came from many different nations; walkers and climbers eager to add Triglav to their list of conquered peeks. Here at Kuca pod Bogatinom, all were middle age Slovenes with few English skills between them. This did not make it an unwelcoming, exclusive club. On the contrary, the people were friendly and did their best, as did I, to convey a rudimentary conversation; my journey, where I was from, those kind of questions asked by all kind strangers you meet while travelling.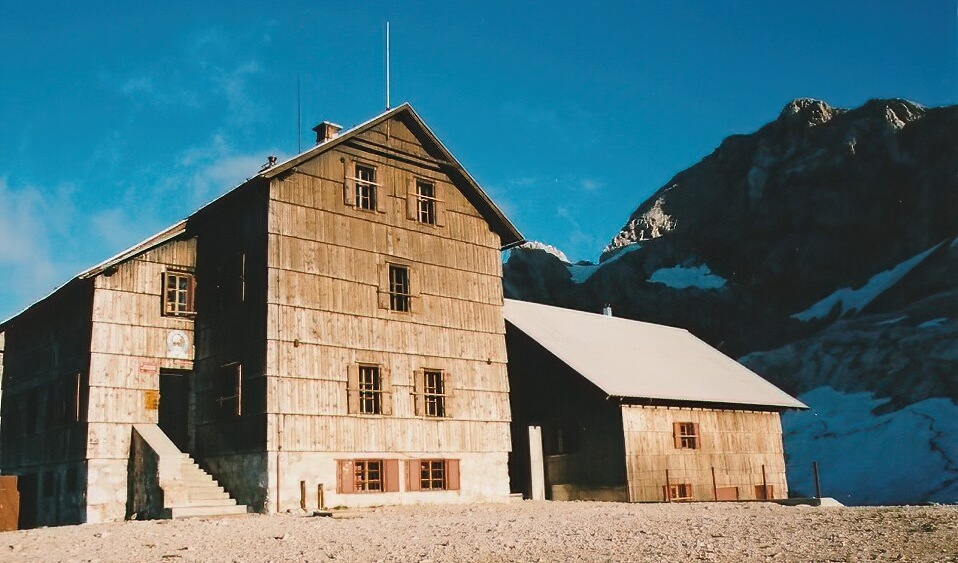 Dom Planika the highest mountain hut in the Julian Alps.


I ate my dinner of spaghetti bolognese, drank a glass of Union Pivo (the Slovenian beer pronounced Oo-nee-on Pee-vo) happy in the knowledge that above me I had a small room with toilet and running water next door, all privileges after a night at Dom Planika. Meal completed, I pushed my plate to one side and studied my map of the National Park. I had walked further today than had originally expected. In fact, I had pushed myself hard for the last two days, always uncertain of my final destination at dawn and always pleased with my achievement by dusk. I had topped out on the 2864 metre peak of Mount Triglav earlier this morning, along with many others, and somehow avoided the traditional birchwood lashing given to Triglav virgins. I guess it was only fair dues that the dwarf pines caught me later. Having signed the summit log book, I then returned to the Dom, collected my backpack and hiked a hour before seeing anyone else. My route over the Hribarice Plateau took me into the heart of the mountains where, even though it was July, the snow had not yet melted. There were further short climbs before I descended into the Valley of the Triglav Lakes just as thick clouds darkened the sky and plunged the plateau behind me into a world of cold grey haze.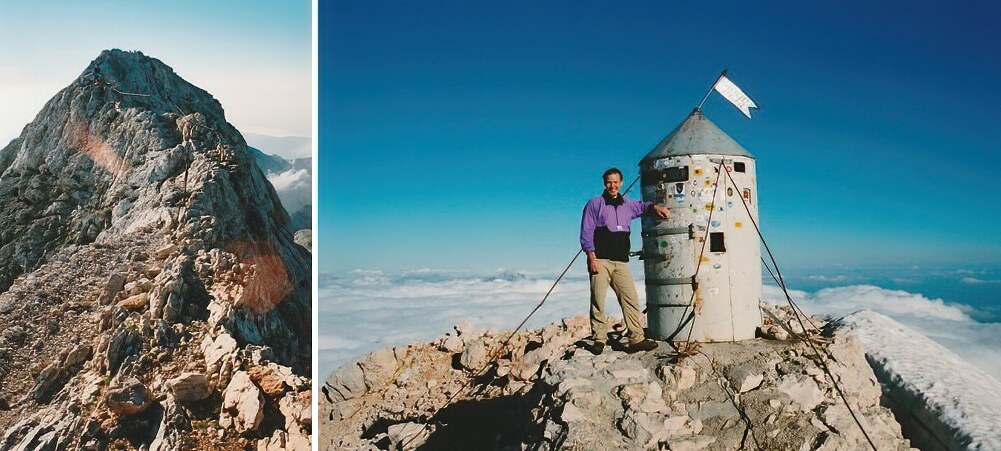 Triglav final ridge and standing on the summit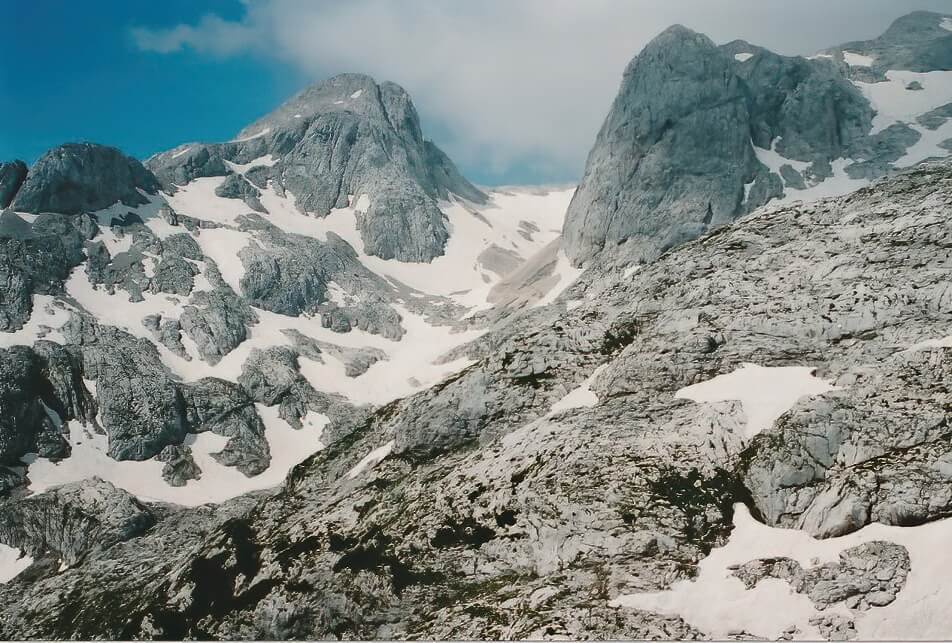 Heading towards the Hribarice Plateau.


The Valley of the Triglav Lakes, also know as the Valley of the Seven Lakes, was a landscape different form any other I had seen. Sprouting up between the limestone pavements were beautiful flowers; many I read are rare, saved in this unique environment by it's remoteness when elsewhere in the Alps they were grazed out. Here also the shrubbery began, innocently and unintrusive at first, but becoming denser as the altitude decreased. I arrived at Koca pri Triglavskih Jezerih by mid-afternoon and considered calling it a day. Yet a look inside the huddle of buildings revealed an almost night-club atmosphere at the bar. This was not my idea of mountain lodging, so I pushed on, hoping that the weather would hold until I reached Koca pod Bogatinom.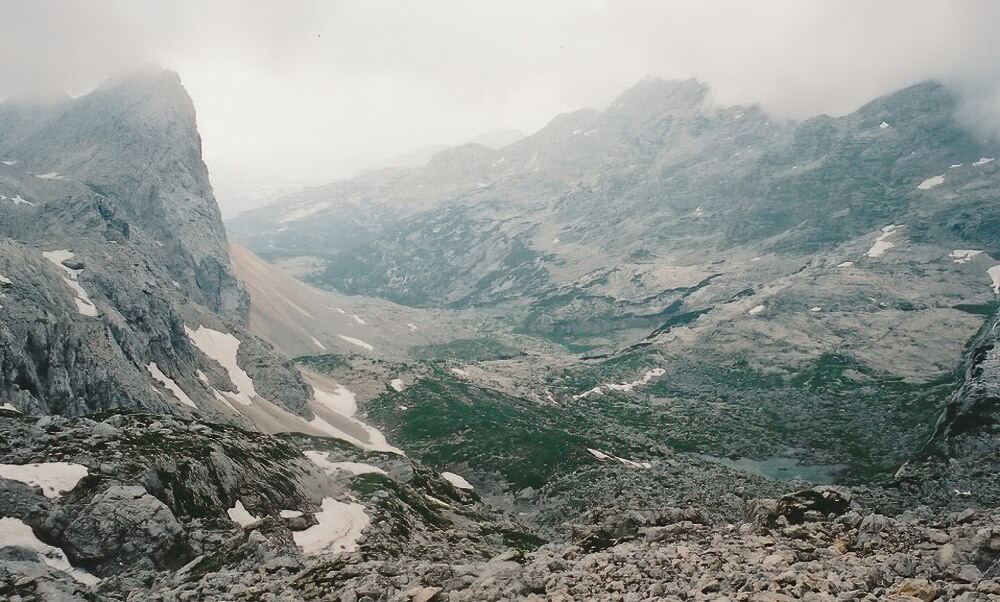 Looking down upon the Valley of Seven Lakes.


The trek between the two huts involved some loss of height followed by a steady ascent across the Komni Plateau, an area of heavy fighting during World War I, and home to the evil dwarf pine. There are photographs from the ware time era hanging on the walls of the hut, I looked at them and wished I understood enough of the native language to read the captions beneath each print.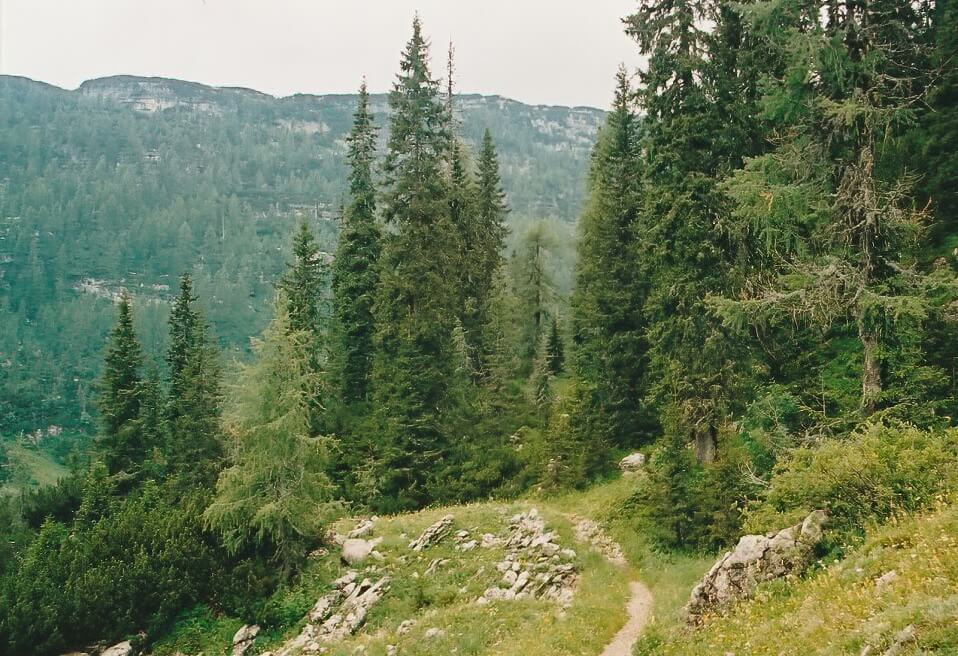 Komni Plateau.


The following morning I departed early, hoping to make a traverse of the ridge that includes the summits of Vogel, Rodica, and Crna Prst, to the south of Lake Bohinj. If the weather stayed dry I would have be in for another rewarding day. But an hour later, whilst I squeezed through yet more dwarf pine, the clouds broke as did my enthusiasm. At a col where two paths lay before me, one heading up, one heading down, a bolt of lightning raced across the sky. The flash illuminated an antlered, crag dwelling creature watching me from above. Perhaps it was one of the Knights that say Ni, I do not know. My mind was made up, it was time to descend to the valley, and here I wish to point out that the Slovene word for no is Ne. All to similar to be coincidence don't you think.


The Route :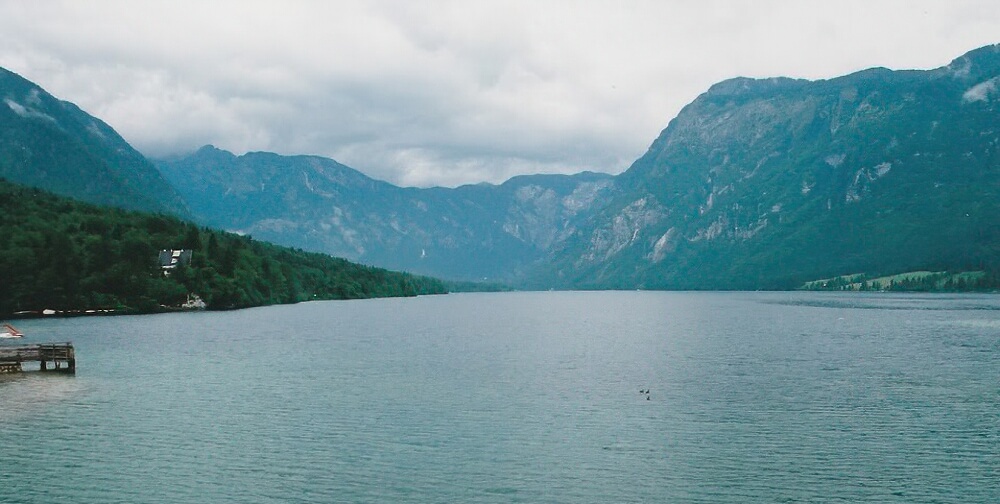 Looking out across Lake Bohinj from Ribcev Laz.


Day one began at Ribcev Laz (531m) on the eastern shore of Lake Bohinj. I chose this point because it was well served by a local bus. From Ribcev Laz I followed the Mostnica River northwards to Pl. Koca na Vojah. This preceded an easy walk through meadows before the path climbed steeply in a series of zig zags through a beach forest. As the path continues to rise, the beach trees are replaced by pine and later by dwarf pine. By the time the route reaches Vodnikov Dom (1817m) you are above the tree line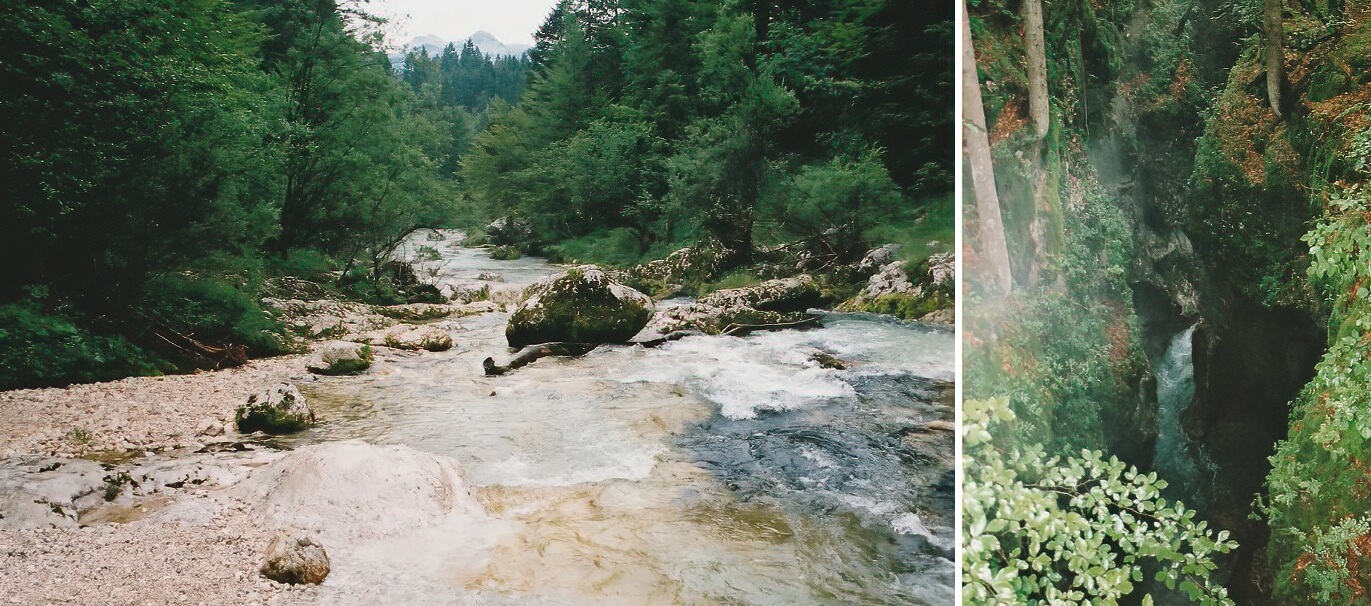 Mostnica River and Gorge.


From there the path continues northward to the Konjsk Preval col (2020m) before the final climb to Dom Planika (2401m) built in the glaciated cwm on Triglav's southern flank. Total distance approximately 14km with a 1870m height climb.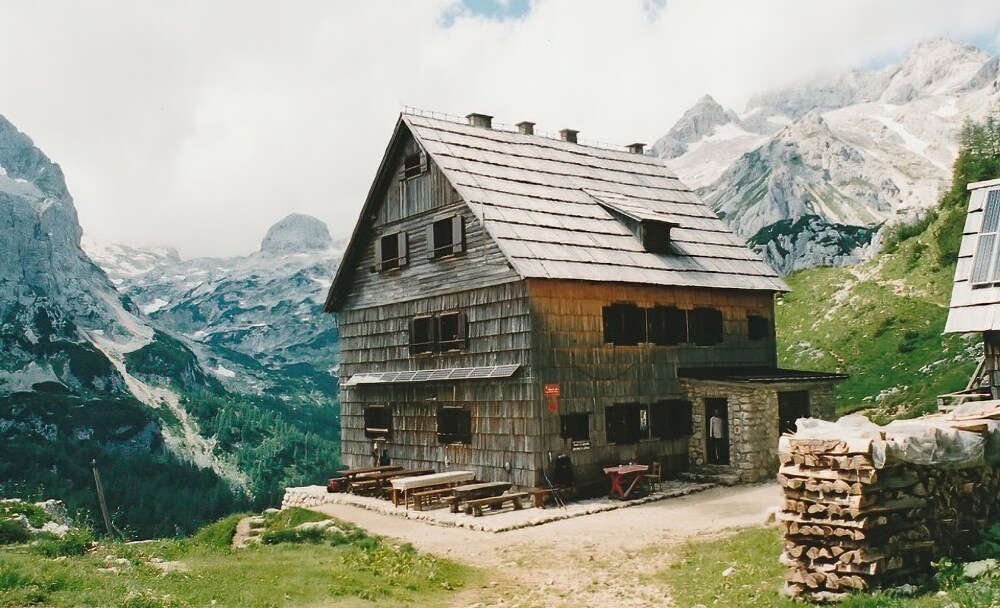 Vodnikov Kuca.


Day two involved a first light ascent of Mt. Triglav. The route to the summit is an exposed but easy scramble requiring no special equipment, though much is protected by via ferrata style wire ropes. After returning to Dom Planika my route was as described in the text. Total distance to Kuca pod Bogatinom 17km, 800m ascent.

Day three, from Kuca pod Bogatinom back to Ribcev Laz, was a 18km hike with only 400m ascent.