ESC - Hungary -
Kékes
, 1014 - Info | Trip Report
What's the Mátra :


The Mátra hills of northern Hungary are almost entirely wooded. The country's highest point, Kékes, is no exception. The only views from it's peek are down the two narrow ski slopes that begin near the summit stone, a large rock on a raised dais painted red, white, and green, the colours of the Hungarian tricolour.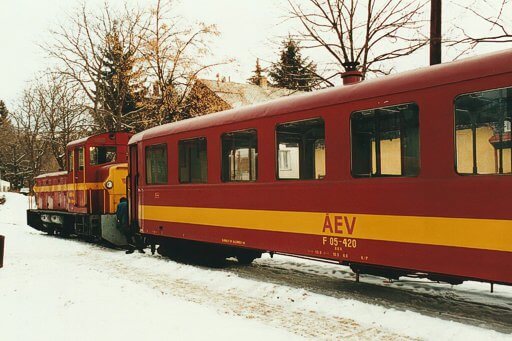 Train at Mátrafüred station.


An attempt on the peek is easy; there is even a road to the top that services the shops, restaurants, and radio mast.I chose to begin my walk at the tourist village of Mátrafüred, having taken a private train from Gyöngyös the same morning to get there. From Mátrafüred a snowy trail waymarked with blue crosses took me up onto a spur so that the ground dropped away on both sides. I was not a narrow ridge and the trees took away any feeling of wilderness.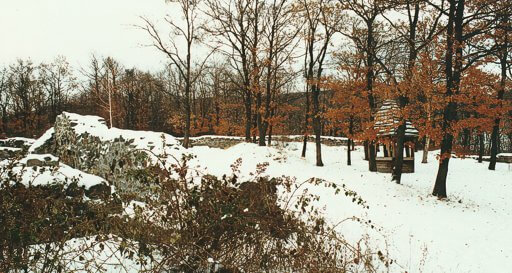 Walls of the ruined castle of Benevar, Kékes.


First stop was the ruined castle of Benevar. Its walls stand no higher than two metres, mostly lower, but it deserved investigation since there was going to be little of interest further on. Gaining height, the radio mast on the summit of Kékes came into view between the trees, and then later a small path led off on the right. A sign indicated that tere may be somehing to see, and indeed there was. As the narrow path dropped hight, it edged down to below a series of rocky crags and a small cave. Black fire marks gave the impression that this place was often frequented and perhaps in warmer months, was a location used to sit out the night.

Returning to the main path, I crossed the summit road at a pair of hair pins and shortly after arrived at the painted stone. The wind was blowing strong and cold here, the ski run providing the perfect funel. A quick photo of the summit, and the it was time to find somewhere warm, the shops perhaps. A hunt for postsards left me disapointed, as did the structureless buger that I ate in the resturant. However, the shelter allowed me time to choose a route for my descent. There are many pathe to pick between, depeding on how long a walk I wanted, but in the end I opted for the green path that would return me to Mátrafüred on a course parallel to my ascent. It was painless, and my mind worked on other issues, namely Sneška in the Czech Republic, I could be climbing that in two days time.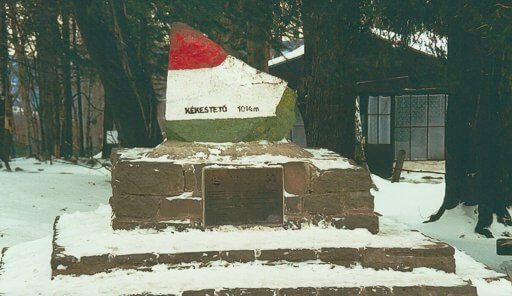 The tri-colour summit stone at the summit of Kékes.