ESC - Hungary -
Kékes
, 1014 - Info | Trip Report
Introduction :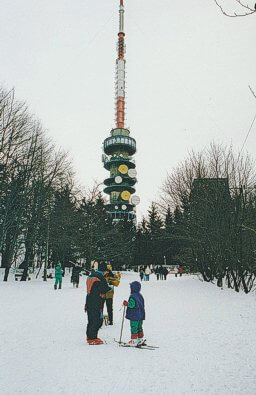 TV Mast and Ski Slope on Kékes.

Hungary's highest mountain is located in country's north, amoungst the hills of the Mátra range These forested and vineyard covered hills are the nation's third most visited tourist attraction after Lake Balaton and the Danube River.

At 1014m high, the mountaineer might begin to hope for some rugged crags and narrow ridges. But alas this is not the case. It is however beautiful and ideal for hiking, indeed there are many trails in the area including the E4 European long distance path.

On arriving at the summit, and spied from a great distance, is the Kékestető TV Tower, the Kékestető stone, and ski slope.

The name Kékes is derived from the Hungarian word kék, meaning blue, and refers to the mountains bluish colour.

Routes :


You can start walking from Gyöngyös though there is little height gained until one reaches Mátrafüred. From Mátrafüred, the route to the summit of Kékes is entirely forested, and paths are waymarked using an array of colour coded shapes. The most direct route to the summit is waymarked by blue cross, later by blue triangles. I took an alternative but parallel route down following green blazes.

At no time did the route present any difficulties. The easiest, but perhaps the most boring route would be to follow the road to the radio mast on the summit.

There are hundreds of other trails in the Mátra Hills so it would be very easy to extend the route to suit the duration of your stay. Though it must be said that most of time would be spend in the forest with very little views.

Accommodation :


Accommodation can be found in both Gyöngyös and Mátrafüred. In Gyöngyös I stayed at the guesthouse Vincellér Panzió at 22 Erzsébet királyné. I found it both clean and reasonably priced.


Maps and Books :
OpenStreetMaps shows the ascent routes.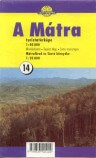 Cartographia publish a 1:40,000 map of the region, ask for
A Mátra
number 14 in their series. This also has a 1:20,000 map of Mátrafüred.
As well as the usuall background information, the Lonely Planet guide to Hungary has a section on the Mátra Hills. ISBN number 0-86442-685-2.



Tom Chrystal and Beáta Dósa's
Walking In Hungary
published by
Cicerone Press
(ISBN 9781852843526) in July 2003, includes routes in the Mátra Hills.
Useful Links :


You can read the latest UK governmen travel advise to Hungary, it might be useful.

For a weather forecast, check www.mountain-forecast.com.