ESC - Montenegro -
Bobotov Kuk, Durmitor
, 2522m - Info
Introduction :


Part of Yugoslavia (1918 - 1992), and later Serbia and Montengro,(1992 - 2006), Montenegro regained its status as an Independent Republic on 28th June 2006.

Montenegro offer some of the least visited and thus wildest mountain scenery in Europe. With a name literally meaning "black mountain" you might not expect anything else, however the name refer to the dark forests that once cover the lower slopes than the white karst limestone rock of the mountains themselves. In stature, mountain ranges of this country; Durmitor, Prokletije (mountains of the "damned") and others, match anything else the continent has to offer walkers, back packer, and tourist.

Traditionally (if not officially) Montenegro claims Bobotov Kuk on Durmitor as its highest peak at 2,523m. It stands in the Durmitor National Park which was formed in 1980 and now a UNESCO World Heritage Site, which really goes to prove how ecologically valuable the landscape here is. The region is a patch work of forests, meadows, steep slopes, and seasonal lakes. To the north, the park is bordered by the equally sight worthy Tara Canyon, claimed by the Montenegrins to be the second deepest canyon in the world. Beyond the Tara Canyon the mountains rise to the border with Bosnia Herzegovina and its highest peak Maglic.

Bobotov Kuk was first climbed in 1883 by the Austrian Dr. Oscar Baumann (1864 to 1899) who later pioneered exploration of Africa. Despite other scientific and climbing expeditions, Durmitor did not attract significant visitors until after the second world war.

As previously suggested there are other claims to the highpoint throne. In the south east of Montenegro lie the Prokletije mountains. Here there are three peaks in Montenegrin territory higher than Bobotov Kuk. The border with neighbouring Albania runs very near or even over these peaks, and thus they are also known by Albanian names, which can add confussion. I have yet to find any of these peaks on a map

i. Maja Kolac / Maja Kolata with its highest peak Zla Kolata / Kolata e Keq (2534m)
ii. Maja Kolac / Maja Kolata with its second peak Dobra Kolata (2528m)
iii. Mt. Bjelic (possible also spelt Belic) with its highest peak Rosni Vrh / Maja Rosit (2525m)

(Vrh is Serbian / Montenegrin for top, whilst Maja is Albainian for crown, i.e. much the same thing.)

At present it is unclear why neither of these peaks are officially recognised as the highest. There are few possibilities ranging from the love for, and iconic status of the Durmitor range in the Montenegrin culture, the fact that Bobotov Kuk stands wholly in Montenegrin territory whilst those in the Prokletije are shared with Albania. Perhaps some more recent and yet undisclosed survey has come up with different summit altitudes. For sure there will be continues debate until this is resolved.

Routes :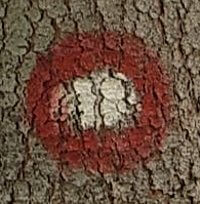 Waymarking on the red routes.

Footpaths in the Durmitor National Park are marked with a circle of red paint with a white centre on trees and rocks. At junctions, there are usually small wooden signs or arrows and destinations written in red paint upon a boulder.

There are a number of approaches to Bobotov Kuk, generally split between the Northern and Southern. The Northern is described as a classic route taking from 5 to 6 hours in ascent, whilst the Southern around 3 hours. Neither route is technically demanding. The best way to enjoy the mountain (and the Durmitor National Park) would be to make a South to North traverse.



● Northern Route

This begins by Crno Jezero (Black Lake) (1416m) 3 km west of Žabljak centre and can be reach either on foot, by bus or taxi. There is a modern yet welcoming resturant here serving good food. From the lake you follow the way-marked path west along the lake shore and then northwards to the junction of paths at Jaksica Mlin (Jaksica mill) on Mlinski Potok river (25 mins from starting). So far the walking has been on the level, but the route now climbs up first through conifer forest then beech, with views back down to Crno Jezero. 1hr after leaving the mill, the forest ends, and at its edge there is a split in the path providing two routes which converge later at Biljegov Do.



Rainbow over Crno Jezero, and Jaksica Mlin on Mlinski Potok.


a) The right hand path heads initially north-west through dwarf pine, then west and south-west across a tricky a landscape of karst rock formations, sink holes, and scree slopes to Ledena Pecina (ice cave) 1 hr 40 mins from the junction. A decent into the hall of icicles is optional, but well worth it. From the cave, head south for 15 mins to join the other route at Biljegov Do.

b) The left hand path heads south-west over undulating terrain, through a narrow canyon and up to a collection of shepherd's huts and the mountain refuge at Katun Lokvice (40 mins from the junction). There is a junction outside the hut. You should travel the westward path, which gains a little height before dropping into the Lokvice Valley. Here the path climbs in a series of switchbacks up the steep face of Prla and into the lower section of the glaciated Biljegov Do. Continue north-west (ignoring the path that heads south-west) to re-join the path coming in from Ledena Pecina 1 hr from leaving the mountain refuge.



Inside the Ledena Pecina (ice cave).


From Biljegov Do it is another 2 hrs to the summit of Bobotov Kuk. First the path ascends to the boulder strewn basin of Valoviti do. Here maps indicate another choice of paths;

a) The most direct trail travels southwest, close to a burnt down mountain refuge, to climb steeply up to a pass between Bobotov Kuk (to the north) and Lucin Vrh (to the south). Snow may lie on the step ascent into July, so beware. At the pass there is a path coming in from the southern routes. Your path lies westward beneath the pyramid of Bobotov Kuk for a final approach of its west face.

b) The other path travelled west to rise beneath the peak of Bozimeni Vrh to the ridge line above the impressive, steep sided valley / cirque of Skrka do. From here you once followed the ridge line southward for twenty minutes to below Bobotov Kuk before making an ascent of its west face. However the ridge path was destroyed by rock fall many years ago and a traverse is ill advised.

● Southern Routes

The two southern routes require a taxi ride to Sedlo (1907m) or Urdeni do (1772m). The route from Sedlo is slightly longer than that starting at Urdeni do. Both routes join near the shores of small lake at 2028m, before steep climb up to the pass between Bobotov Kuk and Lucin Vrh, and a traverse westward beneath Bobotov Kuk before making the final approach.



Final Asent of Bobotov Kuk from the col between it and Lucin Vrh, May 2007
Getting there and away :


A few kilometres to the north east of the Durmitor massive is the town of Žabljak (The "Ž" is pronounced like the "s" in the English "leisure") . Providing a range of accommodation and places to eat, this is the best place to base one self for forays into the mountains.

● By Air - Nearest Airports are; Belgrade's Nikola Tesla Airport near the Serbian Capital and offering a large range of international flights, Podgorica's Golubovci Airport 12km (8 miles) south of the capital of Montengro, Tivat Airport and Dubrovnick's Cilipi Airport in neighbouring Croatia.

● By Sea - There is a ship crossing from the Italian port of Bari to Bar on the Montengrin coast were you could travel on by car or train.

● By Train - The nearest town on the rail network is Mojkovac on the Belgrade / Bar line. At the time of my visit in May 2007, this station was almost derelict. There was no viable bus service, and I was obliged to take a 40 Euro taxi ride the 71Km from Mojkovac to Žabljak.

The railway network within Montenegro is run by Željeznica Crne Gore (Montenegrin Railways). At time of writing they do not have an on-line timetable. Instead, the website of the Železnice Srbije (Serbian Railway) will provide network maps, and timetables (if with some difficulty). Alternatively check with the website of the Die Bahn (German Railways) as this site is very much easier to use and provides information on international connections.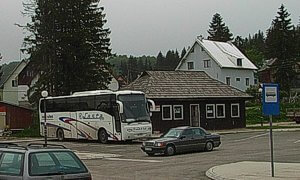 Žabljak bus station. May 2007.
●
By Bus
- Making use of the country's coaching network is by far the easiest and cheapest way of getting to and from
Žabljak
. The bus station is a wooden hut and coach park five minutes walk east of the main square.
In May 2007 Ristic and VOT were running the following service on alternative days;
Sombor
(northern Serbia) 4:45 -
Novi Sad
6:30 -
Beograd
(Belgrade) 8:00 -
Žabljak
16:30.
Žabljak
11:00 -
Beograd
(Belgrade) 20:00 -
Novi Sad
21:20 -
Sombor
(23:10)
Lasta was running a service;
Beograd
(Belgrade) 23:30 -
Žabljak
08:50
Žabljak
14:00 -
Beograde
(Belgrade) 23:30
There are other services running from
Podgorica
,
Niksic - Savnik
, and
Pljevlja
.
Accommodation :


● Camping - There are a number of official campsites in the vicinity of Žabljak. These campsites often provide chalet style accommodation. I have not stayed at any campsite to recommend any, but the easiest to find is the signposted site at Ivan do near Crno Jezero (open June - August, tel. +381 69 041 749). Wild camping is also permitted near the mountain shelters, huts, and near the lake Zeleni vir a few kilometres from Bobotov Kuk on the southern approaches.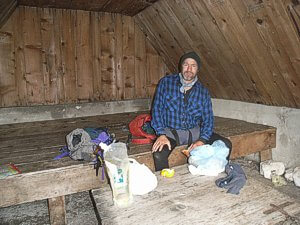 Inside Lokvice sklonište. May 2007.
●
Mountain Huts & Shelters
- Durmitor is one of the few areas in Montenegro where there are mountain huts
(Planinarski domovi)
. Unfortunately these are not well situated for an ascent of Bobotov Kuk. Instead there are two shelters
(sklonište)
at
Katun Lokvice
. A
Katun
is a group of shepherd's huts. These
sklonište
are unmanned and open all year round. One performs the role of a social room with a table, bench and a wood stove. The second, a little higher, has a single wooden sleeping platform. There is spring providing fresh water just beyond the huts. Look for signs reading
izvor
or
voda
.
On the south-western shore of
Skrcka Jezera
, there is a staffed mountain hut (
planinarski dom
) that is open during the summer only.
There is no shelter (
sklonište
) at
Kleknata glava
, in
Valoviti do
. This was burnt down.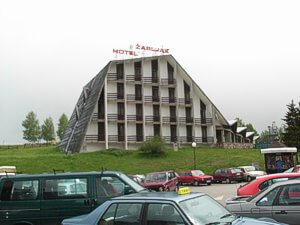 Hotel Žabljak. May 2007
●
Hotels
-
Hotel Management Durmitor
own two of the largest hotels;
Hotel Žabljak
on
Žabljak's
main square, and the
Hotel Jezera
on the path from
Žabljak
to
Crno Jezero
. I stayed at the
Hotel Žabljak
and whilst the staff were friendly, the accommodation was pretty poor, the breakfast and evening meals that were included in the 20 Euro per night rate, inedible.
There are many other private rooms and small hotels in town and these probably offer the best value for money.
Maps and Books :
OpenTopoMaps shows the ascent routes.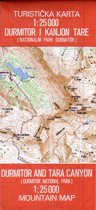 Whilst there are a number of general maps of
Montengro
available, walking maps are harder to come by. A detailed walking map of Durmitor and the Tara Canyon (at a scale of 1:25,000) is available with persistance within Montenegro from the National Park Visitor Centre (on the road between Zablijak and Crno Jezero) and some stores for around €8. The copy I found was published in 1983 by Geokarta d.o.o. Beograd and was in need of updating.
Over the years various military maps have been produced that provide coverage of the whole of
Montengro
, the best being those produced by the
JNA
(Yugoslav People's Army), 1:25,000, produced 1975; 1:50,000, produced 1981. These maps are not easy to get hold of, though extracts for
Durmitor
have been reproduced for a 1986 guide book
Durmitor and Tara Canyon Guide
by Branislav Cerovic (Published in Belgrade and now out of print, but available from the National Park's Office). I believe it is these maps that can be found in digital form at websites such as
travel.valek.net (Durmitor)
and
travel.valek.net (Tara Canyon)
.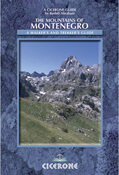 Cicerone Press
have the only English Language guide with their
The Mountains of Montenegro, A Walker's and Trekker's Guide
by Rudolf Abraham, published summer 2007. ISBN 1852845066. This book includes background information, route descriptions, and outline maps for
Bobotov Kuk
.
Useful Links :


The website of the Montenegro Tourist Board.

You can read the latest UK government travel advise to Montenegro here.

The website of the Montenegro Mountaineering Association.

For a weather forecast, check www.mountain-forecast.com.