ESC -
Luxembourg - Kneiff 560m / Buergplaz 559m
- Info
|
VR Tour
Introduction :


Formerly Buergplaz (alt. spelling Buurgplaatz, Buurgplatz, Burgplatz, Burrigplatz) was regarded as the highest point in Luxembourg, and to this day there is a plaque next to the Château d' eau (water tower), announcing this place as Luxembourg's highest point at 558.35m.

However a survey in 1990 by the Luxembourg cartographers of the l'Administration du Cadastre et de la Topographie found Buergplaz to be 558.8m high, and one metre lower that nearby Kneiff at 559.8m.

Both Kneiff and Buergplaz are an easy stroll through pleasant rolling farm land and forest from the town of Troisvierges (meaning three virgins). Why not visit both hill tops?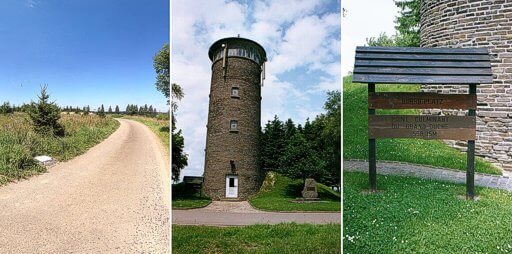 The white summit marker on Knieff and water tower on Buergplaz © D. Stillingfleet
Routes :


Though the summits of Kneiff and Burgplatz are accessible by road, the surrounding countryside is best explored via a network of quiet country lanes and farm tracks. The Syndocats d'initiative 1:20,000 map of Troisvierges & Weiswampach has a number of circular walks overlaid upon it, including a 19Km route starting and finishing at Troisvierges railway station and taking in Burgplatz.

Those looking for a longer challenge might consider a four day trek linking the three high points of Luxembourg, Belgium and the Netherlands.



Please wait for Google Map to load here.

GoogleMaps




Getting there and away :


AIR: The website for Luxembourg Airport may be useful, but is not in English.

RAIL: The town of Troisvierges is the "gateway" to the hills of this region, and fortunately has a regular rail service. Visit the website of the Chemins de Fer Luxembourgeois (Luxembourg Railways), however be warned that this also does not have an English language version, and you might be better of visiting the Die Bahn (German Rail) website which covers all of Europe and does have an English Language service (select on the International Guests from the top menu).


Accommodation :


Camping - Camping Walensbongert is an excellent family campsite with areas for both caravan and tents. It is run buy a very welcoming couple and is within a short walk of Troisverges town centre and railway station. Phone (+352) 99 71 41.

Hostels - There was a Youth Hostel in Troisvierges but this is now closed.


Maps and Books :
OpenStreetMaps, used as the source for many smart phone apps covers the area well.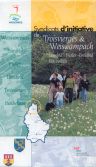 There was a good 1:20,000 map covering Troisverges & Wieswampach available in Troisverges and in the campsite shop at Camping Walensbongert. This has been extracted from the
Administration du Cadastre et de la Topographie
maps and overlay added with circular walks.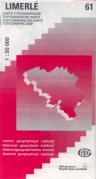 The Institue Geographique National
also produce good 1:50,000 maps. Limerelé 61 covers the northern tip of Luxembourg.
Useful Links :


Website of the Luxembourg National Tourist Office.

For a weather forecast, check www.mountain-forecast.com.