ESC -
Faroe Islands - Slaettaratindur
, 882m - Info
Introduction :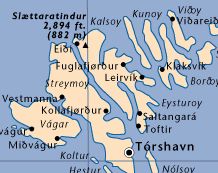 The Faroe Islands lie northwest of Scotland and halfway between Iceland and Norway. The population is largely descended from Viking settlers who arrived in the 9th century. The islands have been part of the Kingdom of Denmark since the 14th century, though became a self-governing overseas administrative division of Denmark in 1948.
The archipelago is composed of 18 islands covering 1399 km2 (545.3 sq.miles). Of these 18 islands, Eysturoy is host to the Faroe's highest mountain.
Getting there and away :
Air - The Faroes are serves by Vágar Airport, located on the island Vágoy. Atlantic Airways fly from London Heathrow, and some Scandinavian cities to the Faroe Islands. Check their website for timetables.


Sea - The Capital City of Tórshavn is the port for those arriving by sea. Ferries of the Smyril Line sail to the Faroe Islands from Iceland and Denmark.


Rail - There are no trains on the Faroe Islands.
Maps :



Kort & Matrikelstyrelsen produce topographic maps for the Faroe Islands, though rather oddly do not sale direct on-line. In the UK check out Stanfords in London. When I last checked, the K&M maps were not available, so Open Street Maps may be the better source.


Useful Links :


The Faroe Island Tourist Board Website has useful fact about traveling to, accomodation, events, etc.

You can read the latest UK government travel advise to Denmark at www.gov.uk/foreign-travel-advice/denmark.

For a weather forecast, check www.mountain-forecast.com.