ESC -
Czech Republic - Snežka
, 1602m - Info | Trip Report


Introduction :


The Czech Republic's highest point lies on the border with Poland, the most prominent point of the Silesian Ridge in the Krkonoše mountains. The ascent is techniacly easy, the first climb recorded being in 1456 by a prespecting merchant. The currrent name "Snežka" refers to the summit being snowing, however it does not carry snow all year round, and this is just the latest in a long evolution as the border changed and different nations tongues took presedent. In Polish the name is similar "Śnieżka", whilst in German it is called "Schneekoppe".

An observatory, weather station and restaurant, with discinctive disc shaped platform, was built on the Polish side of the summit in 1974. It offers welcome respite in bad weather.

There are buildings on the Czech side too, a post office, and the top station for a ski lift. All in all, this is not the place to go for isolation.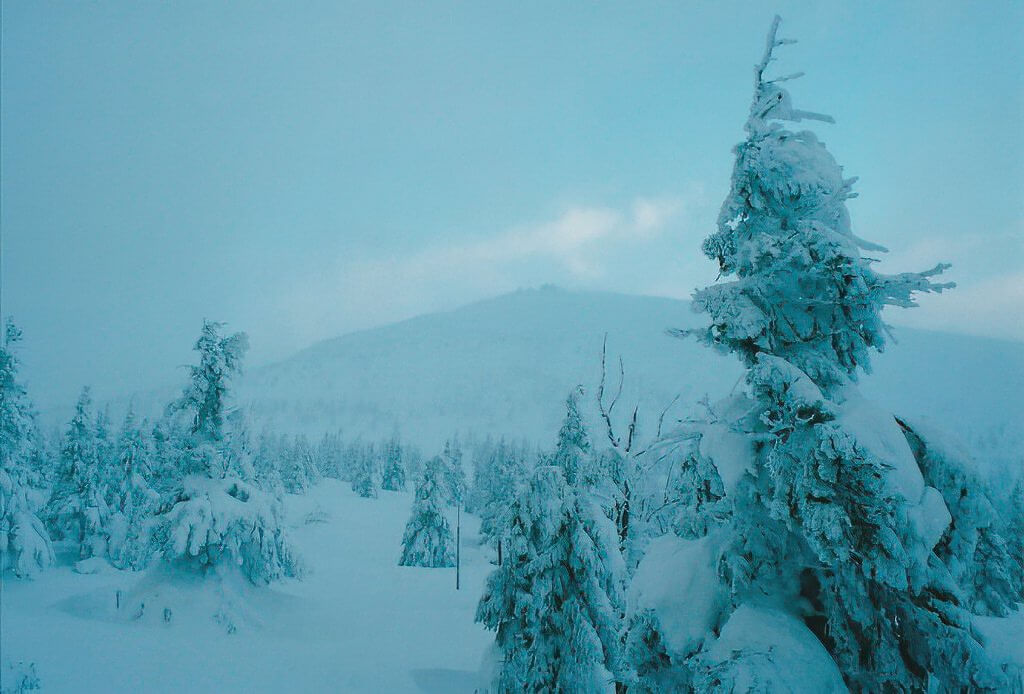 Snežka summit in sight, but on the way down.
Getting there and away :


Fly to Prague and take a coach directly to Pec pod Snežkou. Alternatively, if you are coming from elsewhere in Europe, catch a train to Trutnov. From Trutnov you can take a local bus or Taxi to Pec pod Snežkou. There is also a private railway from Trutnov as far Svoboda nad Upou.


Accommodation :


Hotels and Guest Houses - Travel.cz is a commercial travel agency able to locate accommodation through out the Czech Republic.


Maps & Books :
OpenStreetMaps show some of the ascent route from both the Czech and Polish sides.

Klubu Ceskych Turistu publish a 1:50,000 map of the Krkonoše Mountains (No. 22). It has an overlay showing footpaths, cross country ski routes, and indicates avalanche prone slopes. Visit
Klubu Turistu's Website
.
Rough Guides publish a useful book for those wishing to travel to "The Czech and Slovak Republics". There is a section covering the Krkonoše Mountains. ISBN No. 1-85828-529-1.
Useful Links :


The Czech Tourist Board Website has useful fact about traveling to the Czech Republic.

You can read the latest UK government travel advise to the Czech Republic at www.gov.uk/foreign-travel-advice/czech-republic.

For a weather forecast, check www.mountain-forecast.com.